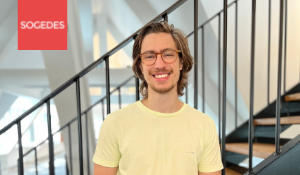 Boa tarde! In diesem Blogbeitrag geht es weiter mit unserer Behind-The-Scenes Reihe. Bruno Fernandes Carvalho arbeitet seit 2019 bei SOGEDES im Bereich Softwareentwicklung und berichtet über seine bisherigen Arbeitserfahrungen. Er ist von Brasilien aus zu uns nach Mannheim gekommen und spricht in erster Linie portugiesisch. Während seiner Zeit bei uns hat er bereits gut Deutsch lernen können. Wir freuen uns sehr, dass er Teil unseres Teams ist. Im Folgenden wird er Euch dennoch auf Englisch näherbringen, wie er das Arbeiten bei SOGEDES empfindet.
How did you join SOGEDES? Please, also describe your whole path in at our company.
"In 2019 I was looking for an experience abroad and I started searching for opportunities in AISEC. I was also learning German in that time and when SOGEDES liked my profile, it was the perfect match.
I started working with RPA and the combination with AI services, like chatbots. With time, the need to develop our own AI services led me to become a specialist in the field, while participating in some strategic and marketing decisions to build better products for the company.
This working experience abroad improved a lot my personal and professional skills, besides language and communication."
How was working from Brazil?
"In 2021, I came back to Brazil to finish my studies and I kept working for SOGEDES remotely as a part time job. It was a very good period, because I continued my projects in the company and I had the flexibility to study and work at the same time. But I confess I missed human contact. Working together in the same environment with your team on site really makes a huge difference to me."
Why did you continue working for SOGEDES instead of working for another company in Brazil?
"Even though there are a lot of good opportunities in Brazil, working in an international company improves a lot my CV. In SOGEDES, I have the autonomy and freedom to explore new areas and get in touch with different stages of the product development process. Here I feel my work is recognised and that motivated me to continue delivering my best.
Besides that, SOGEDES has an amazing environment: the colleagues are friendly, and the multicultural atmosphere is attractive."
What was your motivation to come back to Germany?
"The good relationship with the company and the possibility of a better life quality are my main motivations. Here I can continue improving my professional skills, while working and living in a good environment. For example, my whole diabetes treatment is covered by the public health insurance, which is amazing compared to Brazil.
When I returned to Germany, it was a cultural shock again: how people walk, dress and how life goes on is very different, but I got used to it very fast, especially when I go to Lidl and find my favourite chocolate there (believe me, it is better than Lindt)."
What are your project at SOGEDES? How does your working day look like?
"Nowadays, I develop an innovative AI product and work on Voice Bot projects. What I like the most in my day is the dynamism. Some of my working hours are dedicated to programming, others to product design and finally helping colleagues in developing and using AI services. And of course, eating a lot of fruits and sweets from our kitchen :) "
Why should someone start working at SOGEDES?
"Working in a smaller company means you must be more responsible with your projects and care for details from other departments. This can be a real differentiator in your professional life and an opportunity to get out of your comfort zone. Furthermore, there is no doubt that SOGEDES has a very good atmosphere. Here you can grow your career while keeping your mental health in this frenetic world.
Last but not least, we do many company and cooking events, so you will probably learn some nice recipes from other countries."
Wir bei SOGEDES schätzen jeden Mitarbeitenden und sind sehr flexibel in der Arbeitsgestaltung hinsichtlich der Arbeitszeit und Ort. Bei uns arbeiten Menschen aus unterschiedlichen Kulturen mit verschiedenen Bildungshintergründen zusammen. Das macht den Arbeitsalltag abwechslungsreich und vielfältig. Erfahre mehr über uns als Arbeitgeber.